Discover what the press is saying about us and stay up to date with our upcoming events
Press coverage
CommoChain is attracting growing interest from the media. Make sure to read up on what they have to say about us.
CommoChain is featured in '50 Swiss startups to invest in 2019!'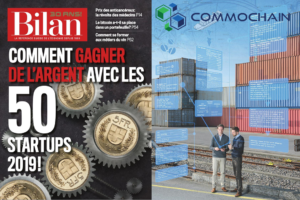 Swiss FinTech/CommoTech company CommoChain has been selected by Switzerland's leading French speaking business magazine Bilan in its edition of 13.03.2019 as one of the Top 50 Swiss startups in which to invest in 2019. The team was on hand to present the company and its Trade-Execution Assistant solution to investors and the media at the official announcement which took place at the Royal Savoy hotel in Lausanne on 12 March 2019.
Our events
Upcoming events:
50 Swiss startups in which to invest 2019 (by invitation only)
12.03.2019
Bilan magazine/UBS, Royal Savoy hotel, Lausanne
Platts Sugar Conference
25.04.2018
Platts Sugar Conference, Geneva
55th SICTIC Investor Day
11.09.2018
Blockchain Investor Day, IMD, Lausanne
Swisscom Blockchain
02.05.2018
Auditorium de la FER,
Geneva
56th SICTIC Investor Day
24.09.2018
Investor Day at Fongit,
Geneva
Event CommoChain
22.05.2018
Presentation, Geneva
Startup Days
25.09.2018
Pitching among 200 startups, Bern
Start-up Week-end
01.06.2018
Fusion – Geneva